I Am a Doctor | Expand Your Practice with Ortho-Tain® | Complete Product Information | Get Started Now | Diagnostic Service & Support |Order Forms | Ortho-Tain® Testimonials | Monographs | Seminar & Convention Schedule | Research & Ortho-Tain® References | Ortho-Tain® for International Clients
---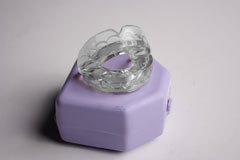 What challenges are your practice facing today? Are you concerned with dental practice growth, or has your practice had problems with: overhead costs, meeting minimum order numbers, patients foregoing straightening and correcting their teeth due to cost? If you answered yes to any of these questions, your practice is not alone.
At Ortho-Tain® we understand your story and have heard it many times before. We would like to help you reach your practice goals and get more patients through the door, at less cost to you. The Ortho-Tain® team is made up of experienced dental professionals like yourself. Our products were invented to straighten teeth by an orthodontist over 43 years ago, to help make his practice the best it could be. Our team is dedicated to helping each doctor master the use and technique of Ortho-Tain® products to effectively and comfortably straighten teeth.
At the forefront of our partnership philosophy, we are dedicated to seeing your cosmetic dentistry, dental, or orthodontic practice succeed. Ortho-Tain® and our doctors believe in the same philosophy when it comes to treatment – never compromising on the mission of oral health, proper function, and beautiful aesthetics.
See the Ortho-Tain Products Catalog
Ortho-Tain® Products Offer:
Better long-term oral health which usually prevents the need for future procedures & fixed appliances.
Products by Ortho-Tain®, which can be used to treat more than just severe orthodontic cases, can also treat minor occlusion disorders and relapse cases.
Unbeatable retention benefits.
Visible results in as early as 1 month, overall treatment in a fraction of the time fixed treatment and other invisible competitors take to see results.
Superior benefits to other competitors offering invisible- type braces- using only 1 appliance, you will see quicker results at a fraction of the price.
Expand your practice with:
Ortho-Tain®'s orthodontic expertise with over 2 million satisfied patients worldwide, from ages 5 and up.
Reduced overall expenses.
Reduced chair time and appointments.
Treatment at a fraction of the cost of other orthodontic options, allowing you to set your own pricing appropriate to your practice and your community.
Average cost of the:
Nite-Guide® Technique: Half the cost of orthodontics in your area and 2 hours of total chair time
Occlus-o-Guide® & Ortho-T® Techniques: 1/2  the cost of traditional orthodontics in your area and 1 hour total chair time.
Easily implemented solutions, and less complicated techniques to learn.
A large range of products and sizes, so 98% of potential patients can be treated with an Ortho-Tain® appliance.
Ortho-Tain® products and techniques are supported by many clinical trials, FDA clearances, years of patient monitoring, and on-going third party research studies to back up your expert, state-of-the-art treatment.